Lake Lillebren is a lake that is accessible for players with level 60 through Adelbard Noble Town, there is a beautiful underwater structure called Royal Core Lab. You can find several enemies like Gullflower, Ice Toad, Float Edge, Lich Floater (Mini-Boss), Raiden and Capt.gizo
Beware that there are monsters that are 10 levels above your level and can easily kill you.
Monster Combinations
Edit
Boss of the area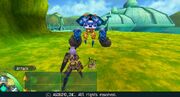 Capt.Gizo -helps Ned "The Bounty Hunter"  to cath him in the Side Quest "Capture The Wanted Person" with the Npc Roland. this guy is definitely not a piece of cake, has a lot of defense, much hp, and excessive force to the level where you can take the mission. -he can kill you in one shot in the 1st or 2nd turn-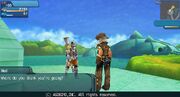 Environment
Edit
Ad blocker interference detected!
Wikia is a free-to-use site that makes money from advertising. We have a modified experience for viewers using ad blockers

Wikia is not accessible if you've made further modifications. Remove the custom ad blocker rule(s) and the page will load as expected.