One of the Locus Portal that can be accessible by Level 80. you can get there walking on Level 70. monsters in there, are in Level 90, be careful. 
Conected To
Edit
Monster Combinations
Edit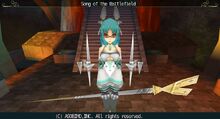 Portal Destinations
Edit
Merida Village - Lv1 - 1000Z
Forest Locus Portal - Lv 24 - 390Z
Tower in Ordina - Lv 30 - 630Z
Grillard Village - Lv 35 - 850Z
Adelbard - Lv 50 - 500Z
Heath Locus Portal - Lv 50 - 400Z
Environment
Edit
Ad blocker interference detected!
Wikia is a free-to-use site that makes money from advertising. We have a modified experience for viewers using ad blockers

Wikia is not accessible if you've made further modifications. Remove the custom ad blocker rule(s) and the page will load as expected.